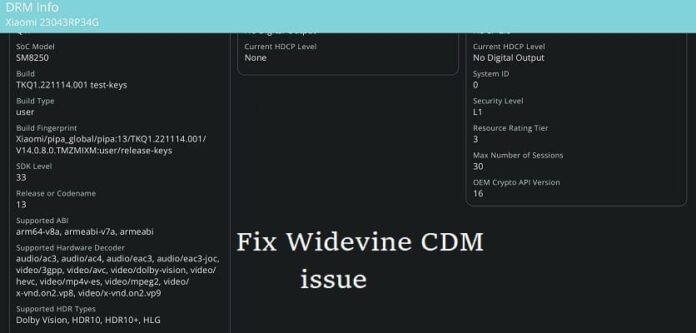 Widevine is a digital rights management (DRM) module used by various streaming services like Netflix and Disney+ to protect their content. if you're experiencing Widevine issue on your device, You might not be able to watch high-quality content on services like Netflix, Amazon Prime Video, and others.
If your device has Widevine L1 certification but is still experiencing issues with streaming services like Disney, Netflix & Amazon Prime Video, There could be a problem with the Widevine system ID or other configurations. Here are a few actions you can do:
Widevine System ID:
Each device has a unique Widevine system ID, which is created during the manufacturing process. Should your system ID be displayed as "0," there might be an issue. Regretfully, you might not be able to resolve this problem on your own. To receive help, you might need to get in touch with Xiaomi customer service .
Check for Updates:
Make sure the system software and firmware on your device are up2date. Updates are frequently released by manufacturers to fix compatibility problems and enhance device functionality.
Clean Flash:
if your device not working even after the update and system id repair then try a full firmware flash using Mi Flash tool.
according to some user it's working on MIUI 14.0.1.0
---