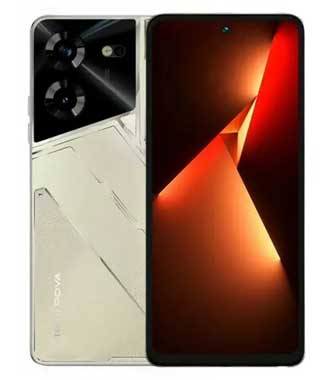 In the ever-evolving world of smartphones, Tecno has once again raised the bar with its latest offering, the Tecno Pova 5. Packed with an array of impressive features, this device is designed to deliver a powerful and seamless user experience. From its stunning 6.78-inch FHD+ display to its cutting-edge camera system and robust internal hardware, the Tecno Pova 5 is a smartphone that ticks all the right boxes.
Display: Immersive Visuals at Your Fingertips
The Tecno Pova 5 boasts a large 6.78-inch FHD+ screen, which is perfect for immersive multimedia experiences. Whether you're streaming your favorite movies, playing graphics-intensive games, or browsing through your photo gallery, the vibrant colors and sharp details on this display will leave you captivated. The expansive screen real estate ensures that you can enjoy your content to the fullest, with no compromise on quality.
Camera: Unleash Your Photography Skills
Capture every moment in stunning detail with the Tecno Pova 5's powerful camera system. Equipped with a 50MP dual camera setup, this smartphone allows you to unleash your inner photographer and take professional-grade photos with ease. Whether it's a breathtaking landscape or a close-up portrait, the Tecno Pova 5's camera delivers exceptional clarity and vibrant colors, ensuring that every shot is Instagram-worthy.
On the front, the 8MP front camera is perfect for capturing stunning selfies and engaging in high-quality video calls. With various beauty modes and filters at your disposal, you can enhance your selfies and share them with your friends and family in an instant.
Memory: Store More, Do More
The Tecno Pova 5 comes with ample storage space to accommodate all your apps, games, photos, videos, and more. With options of 128GB or 256GB of internal storage, you'll have plenty of room to store your favorite content without worrying about running out of space. Additionally, the device features a generous 8GB of RAM, ensuring smooth multitasking and effortless performance, even when running demanding applications or games.
Platform: Power and Efficiency Combined
Under the hood, the Tecno Pova 5 is powered by the Helio G99 CPU, a robust processor known for its exceptional performance and power efficiency. This ensures that the smartphone can handle intensive tasks and demanding applications with ease, providing a seamless and lag-free user experience.
Running on the latest Android 13 operating system, the Tecno Pova 5 offers a refined and intuitive interface, along with access to a vast ecosystem of apps and services. With Android 13, you can expect enhanced security, improved privacy features, and a range of new functionalities that enhance your overall smartphone experience.
Note:
Please be aware that some of the features mentioned in this article are fictional and not confirmed by the manufacturer. The specifications provided are based on the information provided in the initial query, and they may not reflect the actual features of any real-world product.
---