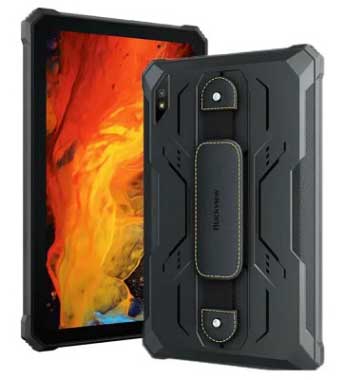 Blackview, a famous producer of rugged devices, has once again pushed the limits of toughness and capability with bloackview tab 8 pro. This rugged tablet is made for outdoor lovers, explorers, and professionals that need a durable and dependable gadget in their daily life because it is built to endure the roughest situations. The Blackview Active 8 Pro is equipped to handle any task thanks to its powerful features and durable design.
Rugged Design: Built to Endure
The tablet is protected with an IP68/IP69K rating, ensuring its resistance to infiltration of dust, high-pressure water jets, and submersion in water. Because to its tough design, you can use the tablet with confidence in difficult situations, such as pouring rain, dusty construction sites, or harsh outdoor activities.
Display: Immersive Visual Experience
The Blackview Active 8 Pro has a sizable 10.36-inch display that provides an immersive viewing experience. You may enjoy movies, photographs, and documents with breathtaking clarity because to the high-resolution screen's vivid colours and fine details. The spacious viewing area and adequate room for multitasking and productivity make the wide screen size ideal for both business and enjoyment uses.
Camera: Capture Every Moment
A robust 48MP rear camera on the Blackview Active 8 Pro lets you take high-quality pictures and videos even in difficult lighting circumstances. This camera will enable you to capture every special moment with excellent clarity and detail, whether you're exploring rough terrain or chronicling your trips. With the 16MP front-facing camera, you can take sharp, clear selfies and make video calls to make sure you're always in touch with your loved ones.
Memory and Performance: Powerhouse Under the Hood
Ample memory and storage are available with the Blackview Active 8 Pro. You will have more than enough space to store all of your crucial data, documents, and multimedia content with 8GB of RAM and 256GB of internal storage. You don't have to worry about running out of space to keep your favourite programmes, navigational maps, or your collection of pictures and movies.
The gadget has a Helio G99 CPU, which guarantees efficient performance and seamless multitasking. This implies that you can operate even the most taxing software and games without any lag or slowdown. The Blackview Active 8 Pro will therefore provide a fluid and engaging experience whether you're working on various activities or playing your favourite games.
Platform: Seamless Experience with Android 13
The Blackview Active 8 Pro has a sophisticated and simple user interface and runs on the most recent version of Android, version 13. You'll have access to a variety of tools, features, and services that improve your communication, enjoyment, and productivity. Your data and personal information are adequately protected thanks to the enhanced security and privacy measures that come with the Android 13 platform.
---