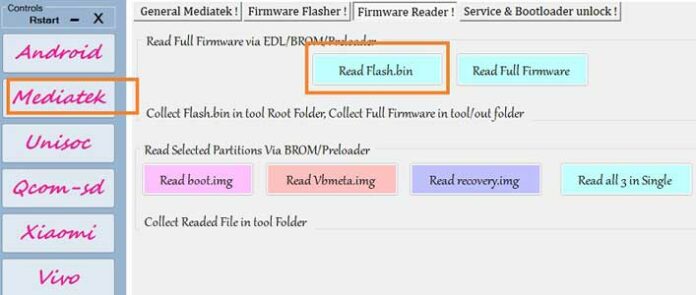 ROM2Box allow user to Read/dump/backup firmware from any Mediatek Smartphone, You can Read Your device firmware by following below guide.
Steps:
Install USBDK and Mediatek Driver
Run ROM2Box.exe
Click Mediatek/ Firmware Reader!
Click Read Flash.bin (if you will face a Immediate CMD close please Kill python from task manager or try multiple times)
Once the process Started, Connect your Switched off Phone to Computer by pressing Volume up + down Key (make sure your phone stable in device manager and detected as a USBDK device Not a Mediatek device)
done, it will take 30Min-1 or 2 hrs depend ROM size..
updates:
Now Read Full Firmware In 10-15Min, Select 'Mediatek/Firmware-Reader/Read Full Firmware' Instead Flash.bin
Extract Flash.bin to images:
Install 7z, Right Click Flash.bin and Select Extract to Flash, done
Reference Video: