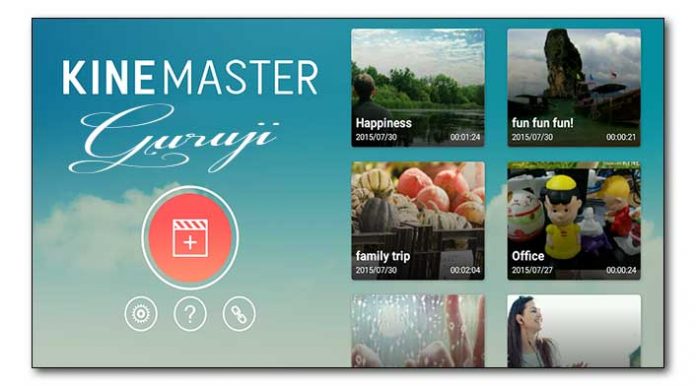 Remove watermark Kinemaster Video Editor-
Step by Step Guide to Remove Watermark on kinemaster video editor For android. as We know kinemaster is one of the Best Video editing app available on Play store but it Come with watermark. so this article  for those Who want to Remove Watermark Without Purchasing the Pro version.
Features of Kinemaster Video Editor-
Precision Editing-
Video Clips and Layers Can be trimmed precisely at frame-by-frame granularity, and audio clip timing can be adjusted with sub-frame accuracy.
Instant Preview
No more waiting to import or pre-render video: KineMaster allows you to Instantly Preview Your edits as soon as you Make them.
Multi-Track Audio
Up to four additional audio tracks are supported, and an unlimited number of audio clips can be added per track.
Multiple Layers
KineMaster supports unlimited text, image, handwriting and sticker layers, as well as up to two video layers on supported devices. Layer position can be precisely controlled, and layers can be animated using preset animation effects or via keyframe animation.
Color Adjustment
Add color filters to your video, and finely adjust video brightness, contrast and saturation to achieve exactly the look that you want. Full color-LUT support coming soon!
Speed Control
Adjust the speed of your video from 0.25x up to 1.5x without distorting the audio pitch, to achieve slow- and fast-motion effects.
Pro Audio Features
Fine tune audio by adjusting the volume envelope over time to achieve the precise effect that you want. Multiple audio formats are supported, or you can separate the audio track from a video clip to edit separately. Dynamic range compression coming soon!
Chroma Key
Video layers now support Chroma key compositing, allowing full green screen support, including preview of the alpha mask and detailed adjustment of the curve used to blend the Chroma key edges.
Voice Recording
KineMaster allows you to Record audio while previewing your project, allowing you to easily add multiple voiceover tracks to any video.
And more…
KineMaster includes many more features as well, such as Voice changer filters, control of exporting frame rate, bitrate and resolution, and support for a variety of video, audio and file formats.
How to Remove Watermark Kineamster Pro-
we have 3 way to Remove watermark on Kinemaster Pro–
Method 1: Official Method
Make Sure Gapps is Installed on Your Phone.
Run kinemaster Go to about kinemaster section.
Click on buy Premium and the Select Google play option.
Pay and Done.
Method 2: unofficial method
Download and Install lucky Patcher From: Here
Download and Install Kinemaster video editor From here
Make Sure Google account is logged in.
Run Lucky patcher and click Kinemaster
then click open Menu of patch and Check option like below image and then apply
after successfully applied Run kinemaster and Go to account Setting and then Select in app Purchase. and then click buy . when you click buy a new popup is open asking with buy this item for free click yes. Done.
Demo:
You have successfully Done.
Method 3: unofficial Method
Download & Install a Patched Version of Kinemaster. You can Download it From Internet.